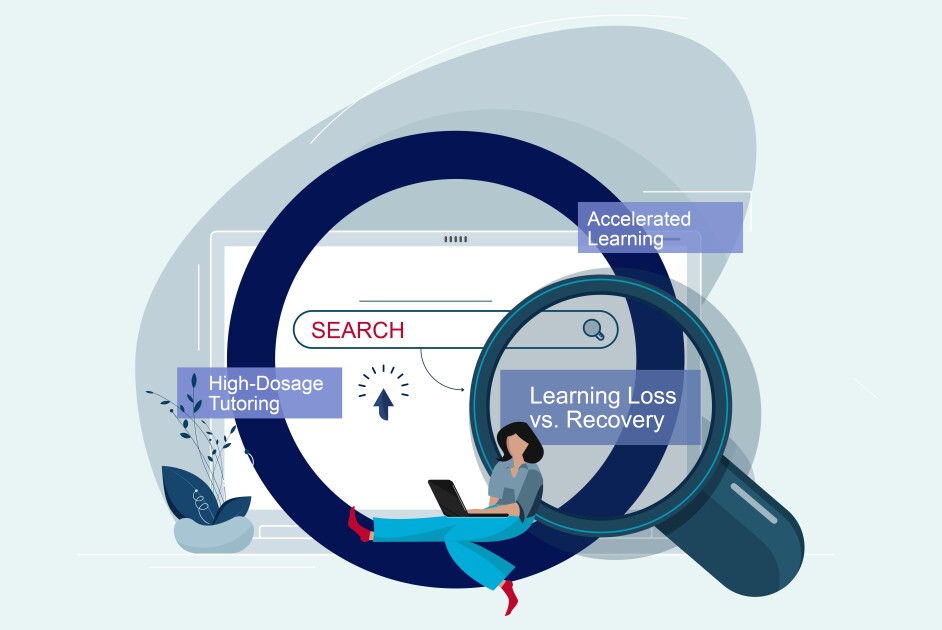 Students are still a long way from regaining their academic momentum following the learning disruptions of the last several years.
The most recent studies estimate the average 8th grader needs more than nine months of additional instruction to catch up to their pre-pandemic progress in math and 7.4 months of instruction to make up lost learning in reading.
Local districts have less than a year to set spending for the $122 billion in Elementary and Secondary School Emergency Relief money provided under the American Rescue Plan. So far, they have focused the bulk of ESSER spending on hiring additional staff and upgrading school facilities (particularly improving ventilation to limit future viral outbreaks.)
But in line with federal requirements that 20 percent of American Rescue Plan money goes to academic recovery, districts have also dedicated nearly $30 billion to interventions intended to help students gain ground in math and reading and improve emotionally from school disruptions in the last three years. Yet districts continue to face challenges in implementing and scaling up these interventions at a high enough intensity to help students recover what is, in some cases, years of lost learning progress.
Here's what educators need to know about the most common academic-recovery approaches supported by ESSER.
Acceleration
Teachers report that half their students started the 2023 school year behind in at least one core subject. Many educators attempt to remediate, reteaching previous lessons to fill these learning gaps before starting new content. Yet, studies show this can slow down students' access to grade-level material, widening learning gaps instead of closing them.
By contrast, in learning acceleration, teachers continue to teach students grade-level content, while filling in missing foundational skills with short, just-in-time supports.
ESSER requires the use of evidence-based academic-recovery interventions such as acceleration.
Extended learning time
There are three main forms of increased learning time:
School day, such as lengthening normal class hours from the traditional 6.5 to 8 hours or adding wraparound services from outside providers before or after school. The National Center for Time and Learning finds these longer days can be taxing for students and teachers, but they provide more flexibility for teachers to accelerate instruction and incorporate mental health and social support, while still allowing room for recess and other relaxation periods.
School week, such as providing Saturday classes, dual-schedule (e.g., morning and evening classes), and on-demand virtual classes. Additional schedule flexibility can prove particularly helpful for older students trying to balance school with work or extracurricular activities.
School year, either via adding days to the traditional 180-day schedule or adding summer and break programs.
In an analysis of more than 5,000 district and charter spending plans, representing nearly three-quarters of U.S. schoolchildren, the nonprofit FutureEd finds summer and after-school programs have been by far the most popular intervention for schools, with nearly 2,200 districts dedicating ESSER money to summer school and more than 1,200 using aid for after-school programs. (States are also required to spend 1 percent of their ESSER funding each on after-school and summer learning programs.)
However, experts say the organizational capacity for after-school programs has not recovered since the pandemic, and higher-income students are more likely to participate than students in poverty.
"Some districts offered little more than the traditional summer school, with opportunities to take an extra class or make up for a course failure. But others had robust programs that combined recreation, arts, and academics to help students recover learning. Many had a social aspect aimed at helping student reconnect and reengage with school," said Phyllis Jordan, FutureEd's associate director, in testimony to Congress.
To be effective, administrators should identify how much of the existing school time is spent on instruction and ensure extended learning time aligns with the goals and curriculum of the school day.
Tutoring
Tutoring is one-to-one or small-group instruction dedicated to a specific goal and used to supplement classroom instruction. About 1 in 4 districts and charters planned to spend ESSER money on tutoring as of 2023, and another 17 percent planned math or reading coaching or mentoring.
The National Center for Education Statistics defines three main tutoring types:
High-dosage tutoring includes at least 30 minutes per session, three or more times per week, in 1-to-1 or small groups, by educators or well-trained tutors, and which uses high-quality materials and aligns with an evidence-based core curriculum or program. Federal data show that, as of the 2022-23 school year, about 11 percent of public school students received high-dose tutoring.
Standard tutoring is less intensive and may include 1-to-1, small-group, or large-group sessions less than three times per week, taught by educators who may or may not have received specific training in tutoring practices. About 14 percent of public school students received standard tutoring in 2022-23,federal data show.
Self-paced tutoring provides guided instruction for students to work through on their own, generally online, progressing to new content as they demonstrate mastery of the current content. Nine percent of public school students participated in self-paced tutoring in 2022-23, federal data indicate.
According to the U.S. Department of Education's research arm, high-dose tutoring is the most effective—though often the most expensive.
The National Student Support Accelerator, a Stanford University center that studies effective tutoring, finds that effective high-dose tutoring programs require:
Tutoring integrated into the school day to increase tutor-teacher coordination and avoid transportation or time problems for students.
Targeting students based on academic need rather than requiring parents to opt into services.
Budgeting services for at least three to five days a week for extended periods of time.
Differentiated tutoring based on particular student needs and skills.
Data-gathering and progress-monitoring, particularly when schools work with outside tutoring providers.
Assessments
There are three main kinds of assessments used in learning recovery:
Formative assessments measure student understanding of specific concepts and are used to guide day-to-day instruction. They may include adaptive benchmarking tests, such as the NWEA's MAP, or teacher-developed live or computer-based games and puzzles, exit quizzes, or group error analyses.
Summative tests measure student proficiency and progress on state or national content standards over time and are generally for systems accountability, rather than to guide instruction. They may take an annual "snapshot" of students in a given grade, such as state accountability tests, or track the progress of a cohort of students over time, such as the National Assessment of Educational Progress Long-Term Trends Assessment.
Diagnostics are single or batteries of academic, behavioral, developmental, or other tests used to identify a student's specific learning needs, such as autism or dyslexia, and suggest potential options for intervention.
As of the 2022-23 school year, more than 1 in 5 districts planned to use ESSER funding to develop, implement, or expand assessments as part of their learning-recovery initiatives.
This Article, Academic Recovery: Terms to Know was written by Maryland Education on   on EW - Student Achievement
Dig Deeper With Our Longreads
Newsletter Sign up to get our best longform features, investigations, and thought-provoking essays, in your inbox every Sunday.
The MEN was founded by John Huber in the fall of 2020. It was founded to provide a platform for expert opinion and commentary on current issues that directly or indirectly affect education. All opinions are valued and accepted providing they are expressed in a professional manner. The Maryland Education Network consists of Blogs, Videos, and other interaction among the K-12 community.