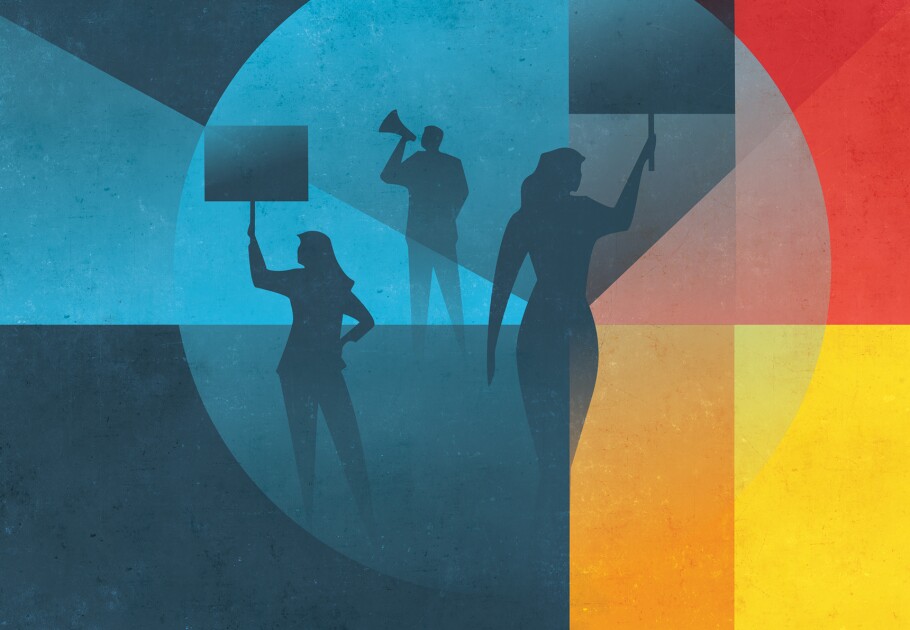 This Article, Parents' Rights Groups Have Mobilized. What Does It Mean for Students? was written by Maryland Education on   on EW - Families and the Community
In June, parental rights group Moms for Liberty hosted its second annual Joyful Warriors National Summit in a downtown Philadelphia ballroom festooned in shades of red, white, and blue. The crowd of about 650 men and women whistled, clapped, and cheered as the group's co-founders—Tiffany Justice and Tina Descovich—took the stage. "We are at a crossroads in this country, and parents are standing in defense of their children," Justice told the audience.
The founders' mission is clear: to mobilize parents to push back against school curriculum and policy decisions that they claim have transformed schools into institutions that are indoctrinating their kids with liberal values.
"Parents absolutely should be concerned about the fact that they can't trust their schools," Justice told me when I asked her to address criticisms that her organization has stoked division in communities and feelings of mistrust in schools and teachers.    
For Justice and Moms for Liberty members, schools have become a place where children are susceptible to so-called "liberal or woke indoctrination" through lessons about LGBTQ+ people and histories, courses that teach about sexuality and gender identity, and curriculum that teaches about white supremacy and racism's role in contributing to systemic inequality.  
Moms for Liberty has influenced hundreds of school board elections and has plans to make deeper inroads in the K-12 space through three political action committees. The organization is also seeking to add a "parents' bill of rights" amendment to the U.S. Constitution. It has won over big-name conservatives running for the 2024 GOP presidential nomination who are eager to court the group's members as voters, including former President Donald Trump, Florida Gov. Ron DeSantis, and former U.N. Ambassador Nikki Haley. 
About This Project
This story is part of a special project called Big Ideas in which EdWeek reporters ask hard questions about K-12 education's biggest challenges and offer insights based on their extensive coverage and expertise.
Conservative parents' rights groups, including Moms for Liberty, have a much different view of parent involvement in schools than the more traditional parent-teacher and family-engagement groups, like the National Parent Teacher Association or the National Parents Union, whose affiliates might host local fundraisers and put on teacher-appreciation days, as well as advocate more funding for schools, school safety measures, equitable practices, and policies to support student well-being.
Some of the parents' rights groups take controversial political stances and aim to influence elections, and their advocacy has resulted in books with LGBTQ+ characters and characters of color being removed from classrooms and school libraries and local and state policies that restrict teaching on race, gender, and sexuality.
A view into the classroom
Since the start of 2021, lawmakers in 44 states have introduced bills or taken other steps to restrict the teaching of critical race theory or limit how teachers can talk about racism and sexism; 18 states have implemented such restrictions, according to tracking by Education Week. At least 10 states have passed laws that allow teachers to disregard students' requested pronouns or that require parental permission for teachers to use pronouns that don't align with a student's sex assigned at birth.
In Florida, DeSantis' parents' rights agenda has led to public battles with the College Board over elements of Advanced Placement Psychology, which includes teaching about sexuality and gender, and AP African American History Studies, which the Florida education department banned for violating the state's law on teaching about race and racism. The formal name of the state's well-known "Don't Say Gay" law—which bars instruction on gender identity and sexual orientation—is the Parental Rights in Education law.
Educators are feeling the impact. In a nationally representative survey of 1,301 educators conducted this summer by the EdWeek Research Center, 43 percent said they have heard from at least one parent in the past year with concerns that the classroom curriculum reflected values of which they disapproved. And 58 percent of those educators said parents expressed specific concerns about LGBTQ+ topics.
And some teachers have altered their instruction as a result: Almost one-quarter of the educators from the same survey said they've changed their social-emotional instruction; one-fifth say they have altered diversity, equity, and inclusion instruction; and 16 percent have changed instruction that touches on LGBTQ+ issues.   
Often lost in the coverage and the conversation about parents' rights is one crucial element: students—and, more specifically, how the movement's heated rhetoric and its impact on school policies around curriculum and instruction might be affecting their ability to understand themselves and others. If schools in response are depriving students of instruction that reflects the increasingly diverse world around them, are they missing out on the building blocks that will help them develop empathy? 
Some worry that might be the case.
How do children learn empathy?   
Empathy isn't just a nice trait to have. It's an essential skill that people learn and build upon, starting in childhood. It helps people connect to others, have a better understanding of the world around them, and contribute to society. People who can empathize have the ability to collaborate, work in teams, and be open to new ideas. Empathy is a key component of emotional intelligence and a goal of social-emotional learning, which more states and districts have added to their standards in recent years.
School is often one of the first places where children have experiences with people outside their family unit. A child's ability to understand how someone else feels is often a result of this exposure to others, even if "empathy" is not explicitly addressed in curriculum. And it's often through lessons that are rich in history and culture where students learn to flex their empathy muscles.   
The other place where children learn about empathy? At home.
Ideally, the two forces—the family unit and the school—work in concert, said Joy Osofsky, a child psychologist and researcher at Tulane University.    
"When we talk about the development of empathy, it begins with the parents observing how [children] react to things and … then the role that parents play in describing to children and talking with them about what is important, how we behave, how we treat other people, and how other people might feel when we react," Osofsky said.
These lessons come full circle when children can take what they've learned in school and discuss it with their parents, bridging gaps between classroom instruction and home values. Some believe the priorities of the parents' rights movement could be undermining that collaboration.
But many involved in the movement feel that it isn't educators' role to teach students these lessons. In the most extreme cases, parents fear that teachers are inculcating their children with views and values that are antithetical to those of their parents and then punishing children who express disagreement.
"One of our concerns is that schools have begun to put in place what feels like an orthodoxy in the name of inclusion and … that, now, if students disagree or have questions, instead of welcoming that—which is what a school is supposed to do—it's almost labeled as hateful," said Erika Sanzi, the director of outreach at Parents Defending Education, a conservative parents' rights organization.    
If Black children and brown children can deal with racism, then white children can read about it.
Teachers, as reflected in the same Education Week survey, have sometimes reduced emphasis on these conversations in response to such activism. And that absence not only stymies students from developing mutual understanding, it can also harm those who see their histories being removed from school curriculum, Osofsky said.   
In other words, if students don't learn about people different from themselves in school and make those connections at home, they may end up fearing and misunderstanding others.
Patricia  Edwards, a teacher educator at the University of Michigan, was in the first generation of students to desegregate her high school in Albany, Ga., where there were no discussions of Black history or systemic racism as she came of age. She learned about the history of Black Americans outside of school.   
"Education for Black children started in the church," Edwards said. "It wasn't like feeling I didn't understand who I was. I knew who I was."
The current parent movement and its effort to influence what's being taught is not new. Since the start of public education, parents have pushed back against curriculum and school policies, and there are many U.S. Supreme Court cases that reflect the scale of those debates.
But this time feels different, Edwards explained: This movement is far more aggressive and explicit in its efforts to change what schools are teaching. Parents have been escorted out of buildings for shouting and threatening school board members. Over the past year, some school boards flipped to majority slates of conservative Moms for Liberty-endorsed members, who have made headlines for enacting policies to ban curriculum and books they find unsavory, despite what many other parents might think.
She worries that current efforts to remove diverse books and lessons about race and racism will harm students, especially students of color, and make it easier to perpetuate harmful stereotypes and narratives so that all students lack empathy and understanding of others.  
"I think we're going to have a whitewashing of education," Edwards said. "If Black children and brown children can deal with racism, then white children can read about it."   
A missed opportunity to build understanding
This will result in an "empathy gap," said Prudence Carter, a sociology professor at Brown University. Without exposure to people from other cultures, religions, values, and political views, and opportunities to ask questions and have discussions in classroom settings, students won't develop empathy for others.   
Carter sees the conservative parents' rights movement as a direct response to efforts by schools to be more inclusive by teaching about the role race and racism have played in the nation's development and providing protections for LGBTQ+ students, especially those who are transgender. Diversity in the curriculum leads to more acceptance of diversity in the outside world and gives minority students a chance to see their communities, histories, and stories reflected in school, ultimately decreasing the harm that comes from being ignored, she said.   
Without exposing all students to diverse cultures, ideas, and viewpoints, empathy and societal progress are threatened, Carter said. In effect, without that exposure, as adults, today's students won't have the skills to work with one another, to understand different cultures.
"If you do not socialize children, in my professional opinion, to deal fundamentally with differences across perspectives, ideals, idea systems, beliefs, then you're going to foment the kind of social division we have in this country," Carter said. "It is really stark because we don't know how to deal with difference comfortably."
The Moms for Liberty founders don't see it that way.
"Part of the great task of parents is to teach qualities such as empathy to their children," said Justice in a statement. "Moms for Liberty is ensuring that what our children are being taught is in line with what is necessary for the classroom and appropriate for their age group. Young children do not need to be reading about sexual pleasure to learn how to be empathetic. Rather, parents should focus on developing their children, and teachers and schools should focus on teaching students reading, writing, and arithmetic. Maybe then the reading proficiency scores across the country would not be plummeting."
Opening the doors for parent engagement
While the conservative parents' rights movement has led to censorship of diverse materials, it has also brought more attention to family and parent engagement, which is key to cultivating empathy among students.
The movement has "certainly helped to confuse elements of family engagement that are not family engagement, like censorship and discrimination," said Vito Borrello, the executive director of the National Association for Family, School, and Community Engagement, an organization that advocates family and parent involvement in schools. Borrello, however, does not subscribe to the parents' rights movement championed by groups like Moms for Liberty and Parents Defending Education. 
"However, what the parents' rights bills have done is elevated the important role that parents have in their child's education," he said. "That is the positive that has come from this."    
Parent involvement can lead to better social-emotional skills for students, including the development of empathy. Productive parent-involvement practices encourage parents to have conversations with their children about what they learn in school, connecting home values to lessons about culture and society. That level of critical thinking leads to the development of empathy, as Osofsky, the Tulane University psychologist said.
Where do we go from here?    
As the parents' rights movement and its influence on school policy and politics mount, experts worry the impact on the presence of empathy in society could be detrimental. 
As a teacher educator, Edwards has watched young teachers become more particular about choosing where they work over the last few years. She attributes that to a fear of how parents treat teachers.    
When teachers, especially those of color and LGBTQ+ teachers, feel unsafe working in certain districts because of policies that limit how they can talk about race, gender identity, and sexuality, students lose exposure to more people with whom they might not identify. In effect, they lose a prospective role model and another opportunity to grow their understanding of others.   
Edwards believes the path forward is for educators, especially teachers, to use their voices if they want students to continue developing empathy through school.    
"Teachers, who normally remain quiet, need to speak up," Edwards said. "Why are you coming in my space telling me how to run my show? Those parents need to be called out."   
Ultimately, teachers have the power to be confident in their curriculum and content and give students the space to share ideas, learn to disagree, and empathize with each other, helping schools overcome the impacts of the current parents' rights movement that worry critics the most. In effect, educators can safeguard empathy for future generations.    
Dig Deeper With Our Longreads
Newsletter Sign up to get our best longform features, investigations, and thought-provoking essays, in your inbox every Sunday.
The MEN was founded by John Huber in the fall of 2020. It was founded to provide a platform for expert opinion and commentary on current issues that directly or indirectly affect education. All opinions are valued and accepted providing they are expressed in a professional manner. The Maryland Education Network consists of Blogs, Videos, and other interaction among the K-12 community.
In this video, I break down an incident where an assistant principal broke up a fight and the reporter...