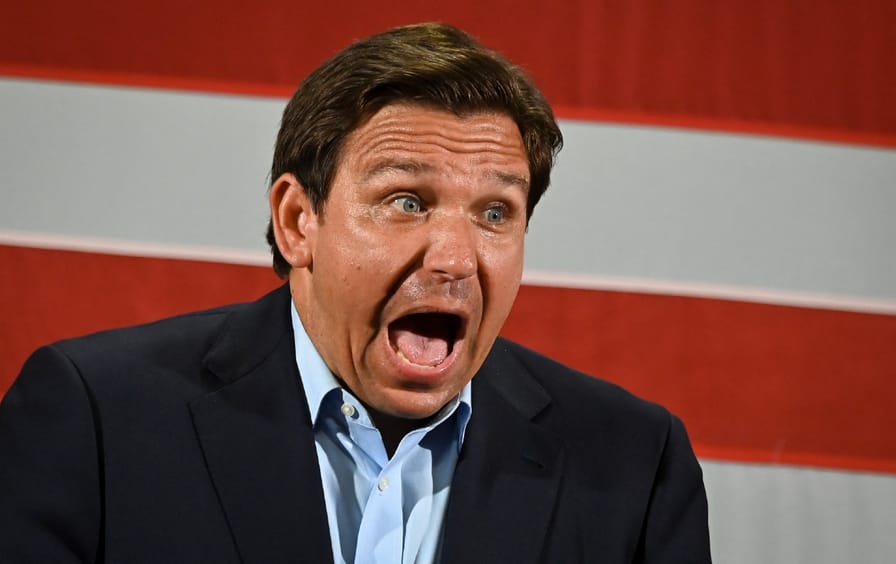 When Louis Brandeis declared that the states were laboratories of democracy, it's a safe bet the Supreme Court justice wasn't thinking of the rolling authoritarian agenda of Ron DeSantis, the Florida governor now positioning himself for a run at the 2024 Republican presidential nomination. DeSantis came to national prominence as a founding member of Congress's hard-right Freedom Caucus. As governor, he's transformed the Sunshine State into a model of antidemocratic reaction, making Florida the place "where woke goes to die," as his informal state motto has it. Not satisfied with banning mentions of sexuality or baseline guarantees of gay and trans tolerance from Florida public schools, he responded to dissent by Disney and other major Florida employers by launching a separate culture war against the specter of "woke capitalism." Though other states have enacted bans on the truthful teaching of American history and purged school libraries of verboten race- and gender-themed materials, DeSantis mounted a crusade against left-leaning thoughtcrimes at their alleged higher-ed source with his hostile takeover of Florida's state-run New College. To signal his seriousness to conservative primary voters, he placed the anti-CRT crusader Christopher Rufo on the school's board. Rufo instantly warmed to his new sinecure with eager plans to gut New College's faculty, admissions policy, and diversity mandates; "the student body will be recomposed over time," while the college's true-believing directorate "will recruit new students who are mission-aligned," in Rufo's unwitting echo of Bertolt Brecht's satirical dictum to "dissolve the people and elect another."
As a political leader, DeSantis is more measured in his public utterances than figures like Rufo, but the two professional culture warriors are very much on the same page. So it's important to track Rufo's five-year plan for counter-woke education as the Republican supermajority in the Florida Legislature prepares to advance a head-spinning litany of DeSantis-sanctioned initiatives aimed at heightening the governor's national political profile. On the education front, he's seeking to clamp down on everything from trans athletic participation to AP African American studies to the use of trans-inclusive pronouns by educators. Under the guise of promoting parental rights and making schools answerable to the people, DeSantis is offering lessons in bigotry. He's also poised to sign into law a restrictive six-week abortion ban (thereby coercing Floridians into motherhood at a moment when many of them likely don't even know they're pregnant) and approve plans to expand the dubiously legal stunt that he launched last fall of removing undocumented asylum seekers to blue-state jurisdictions.
All the while, DeSantis is doing his own level best to dissolve the people—as long as the people in question might cast errant Democratic ballots. Thanks in part to an aggressive agenda of voter suppression and racial gerrymandering, DeSantis won reelection by a 20-point margin last year. And in a flourish that would make Brecht blush, he now claims this rigging of the voter rolls as a populist mandate. "November's election results represent a vindication," he declared in his March State of the State address. "We have the opportunity and indeed the responsibility to swing for the fences so that we can ensure Florida remains number one," he continued. "Don't worry about the chattering class. Ignore all the background noise. Keep the compass set to true north. We will stand strong. We will hold the line. We won't back down. And I can promise you this: You ain't seen nothing yet."
Perhaps. DeSantis owes much of his political success in Florida to a singularly anemic Democratic state party, which put forward former GOP governor Charlie Crist as his 2022 opponent, in an all-too­typical flourish of myopic centrist strategizing. A recent USA Today poll also indicates that the obsessive right-wing assault on all things woke may be a nonstarter for the national electorate: 56 percent of respondents said that wokeness was a salutary commitment to social justice, with just 39 percent agreeing that it's political correctness run amok. If national Democrats closely heed the lessons of the state party's failures in Florida, they just might be able to dispatch DeSantis, Rufo, and company to a richly deserved obscurity—and thereby render "the Florida blueprint" that DeSantis touts in his recent campaign memoir a fast-receding beachfront mirage.
This Article, Florida Man Trashes the Constitution and History in Pursuit of the White House was written by Chris Lehmann, The Nation on   on the article source website.
Dig Deeper With Our Longreads
Newsletter Sign up to get our best longform features, investigations, and thought-provoking essays, in your inbox every Sunday.
The MEN was founded by John Huber in the fall of 2020. It was founded to provide a platform for expert opinion and commentary on current issues that directly or indirectly affect education. All opinions are valued and accepted providing they are expressed in a professional manner. The Maryland Education Network consists of Blogs, Videos, and other interaction among the K-12 community.